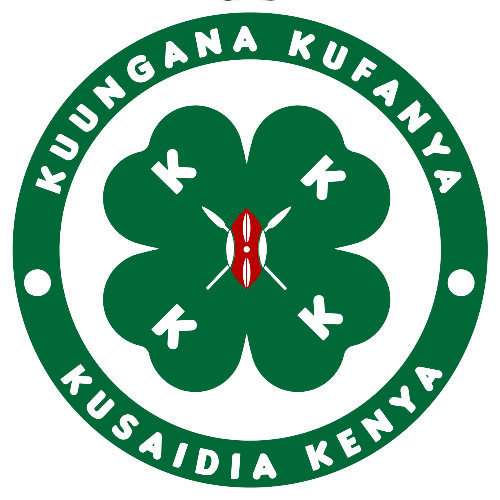 The emblem has the four Ks etched around the clover leaf. The meaning of the Ks; Kuungana, Kufanya, Kusaidia, Kenya are scripted in the ring around the leaf.
The clover leaf is the main icon that identifies the logo with 4-K Club. It symbolizes Growth. The Forest Green is also symbolic of youth and life.
The shield is centered within the clover leaf. It symbolizes the State Republic of Kenya as the core focus in the mandate of the Club.
Kuungana
UNITY of the Youth and Young Farmers as members of the club to foster growth and empowerment in the society.
Kufanya
ENGAGING in doing work with one's hands and mind in bid to meet the society's present needs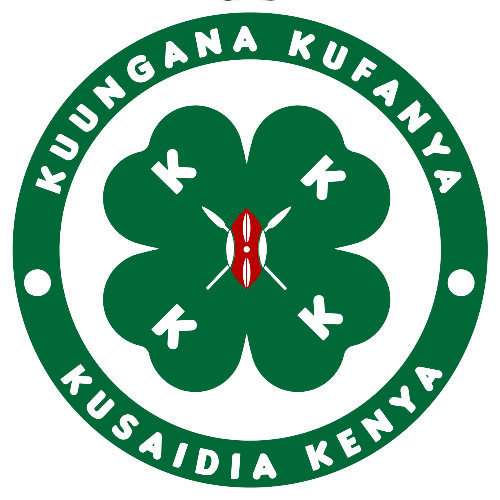 Kusaidia
AID of the country by ensuring its progress through offering innovative solutions to national challenges.
Kenya
An Educated, Healthy, Self-reliant nation points to an assurance of prosperity.
The 4-K Club Motto
The 4-K Club Motto is 'To Learn By Doing' which in Swahili means 'Kujifunza Kwa Kufanya'
The 4-K Club PLEDGE
The pledge in Swahili, 'Ninaahidi Kuungana, Kufanya na Kusaidia Kenya' was coined as a symbol of loyalty and commitment towards the club's goals and objectives. The 4-K Club members should recite the pledge every time, before and after their meeting.
The 4-K Club members live the 4-K way by adhering to the motto and the pledge.
To learn by doing
It means being practically involved in the activities under the 4-K Club programmes and projects.
Research indicates that people learn best when they actually do a task. It has been found out that one remembers:
10% by reading

20% by hearing

30% by seeing

50% by seeing and hearing

70% by saying it ourselves

80% by experience

95% by saying and doing it ourselves (William Glasser, 1925).

For example by growing your own crops you learn to be a better farmer